Do you want a shrub that attracts birds and butterflies? Or one that provides year-round shade, privacy, or beautiful blooms? Maybe you're looking for something with colorful foliage; The possibilities are endless! Tn Nursery is here to help! We offer over 300 varieties of trees, shrubs, and perennials in our nursery. Our plan finder can help you find the perfect shrub for any project – whether it's a new landscape design or you want to add some color or curb appeal, Tn Nursery has a shrub perfect for you!
Shrubs
4 Ways To Choose Shrubs For Landscaping Designs
Shrubs offer property owners a lot of flexibility in their landscaping. There are many types, such as green shrubbery and flowering plants that can add color to your yard. You need knowledge about them though because some have sweet fragrances while others provide privacy for the outdoors like hedges do or even grow fruits if you're lucky enough!
A shrub is another word for bush which means it has multiple uses so I'll talk more generally than just focusing on specific kinds since there's too much information here making this passage complicated already without me having to repeat any input verbatim. Most are spring-flowering a=from April till June.
2: Use Shrubs To Form Privacy Hedges
Many homeowners find six-foot privacy fences unappealing. These tall wooden or plastic-based structures fail to enhance the landscape. By contrast, the strategic placement of bushes that intertwine to form a boundary line delivers both privacy and aesthetic value. These rank among the most common varieties for privacy hedges employed in this fashion. Everyone loves spring-flowering plant varieties.
These shrubs highlight the fact that landscaping involves personal decisions about greenery and color. Some people like green hedges because they do not distract from other elements. Some enjoy splashes of color along the perimeter.
3: Plant Shrubs To Strategically Infuse Color Into Landscapes For Spring Flowering
Certain shrubs help by integrating color in lackluster spaces. For example, house corners that call for color at heights make blooming shrubs a perfect choice. Also, areas such as outbuildings and low walls look more robust when adding hydrangeas and forsythia plants. These rank among the popular shrubs that add color. Also, use plants like the burning bush for fall foliage.
Other popular varieties used to infuse color found at our TN nursery include Sweet Shrub, Spiraea Van Houtte, Flame Leaf Sumac, Red Chokeberry Plant, Red Osier Dogwood Bush, and Coral Red Dogwood, among others.
4: Deploy Shrubs To Accent Low Fences & Hardscapes
Shrubs offer Tennessee landscapers incredible flexibility to create aesthetically pleasing grounds with a wide range of plant life. However, the same variety that makes shrub use in TN so valuable also requires some forethought and decision-making. The following are three things you should consider when incorporating shrubs into your landscape:
1)For instance, forsythia plants add color to landscapes while hydrangeas contribute ornamental flowers; however, both require maintenance throughout the year if homeowners want them to look their best around each season's changeover (they often lose leaves during fall/winter months). Burning bushes provide fragrant blossoms but need constant pruning or else they can take over other flower beds due to prolific growth habits.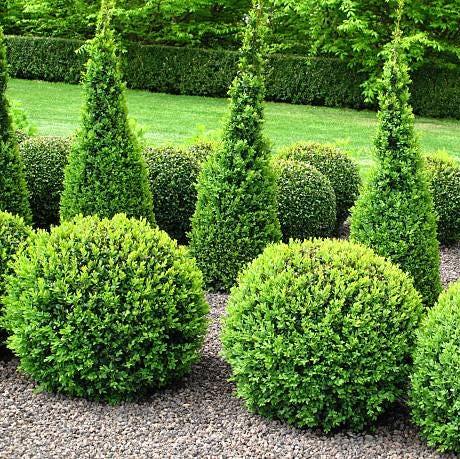 Rose Of Sharon: This hardy hibiscus presents soft pink or bluish flowers and remains a darling for low-fence and hardscape accent.
Arrowwood Viburnum: This low-height green shrub with white flowers offers a subtle contrast to rock gardens and walkways. These also have nice fall foliage.
Although these uses rank among the popular ways that shrubs add value to landscapes, their flexibility opens the door for many other creative uses. By considering your taste in flora, landscape specifics, and the growth of shrubs, your property can enjoy the natural beauty you deserve.
Select The Best Shrub To Enhance Your Landscape At Our TN Nursery
We understand that choosing a shrub to enhance your landscape requires careful consideration. The wide variety of colorful blooms, maturation heights and widths, and landscaping strategies sometimes make this a difficult decision. If you have questions about adding shrubs to your landscape, contact our TN nursery today. We are happy to answer any questions.
Buy Shrubs Online at Tennessee Wholesale Nursery- 1 Year Guarantee, Fast Shipping To Everyone
Creating a sustainable homestead continues to trend hot among people concerned about the environment and securing their independence. Americans enjoy a long-standing tradition of carving out a place of their own, dating back to the first settlers. But perhaps the mountain folk who lived off the land in the Appalachians remain the most iconic.
Today's homesteaders emulate the down-to-earth methods used to grow food and keep a modest number of livestock on hand. Although technology provides modern-day people with technological advancements such as solar energy and electrically pumped well water, the vegetation necessary for success has not necessarily changed. By strategically integrating plants, shrubs, and trees into the land, homesteaders can improve their success rates.
Plants That Support A Sustainable Homestead
One of the common miscues newly-minted homesteaders make stems from only focusing on plants that directly produce food. Robust land management requires a delicate balance of flowering perennials, native grasses, and mosses in deeply shaded areas. If that sounds counterintuitive, consider the following rationale.
Although homesteaders may not see a clear benefit from incorporating plants that do not necessarily yield food, they often enjoy significant secondary support.
Shrubs That Support Homestead Success
Including fruit-bearing shrubs such as blackberry and blueberry bushes, among others, makes perfect sense when planning land use. But like flowering perennials, the blooms of certain shrubs increase the lure of pollinators such as bees, butterflies, and hummingbirds. These rank among the top flowering shrubs for this purpose.
If those don't strike your fancy, options such as Wisteria, Hydrangea, and Crepe Myrtle may suffice. Shrubs not only enhance pollination efforts but also provide shaded areas for ducks, chickens, and other homesteading animals. When developing a sustainable land use plan, peripheral plants and shrubs act as a support system to help achieve your food and clean water goals.
Best Trees For A Sustainable Homestead To Succeed
It may sound redundant, but an overwhelming number of homesteading plans focus almost entirely on trees that produce fruit and nuts. These remain admirable considerations, but success requires the planner to flesh out tree usage. The thought leadership around tree-planting strategies focuses on critical areas that include food production, wildlife habitats, and shade. The following trees highlight how these factors play into the overall homestead plan.
Developing a sustainable homestead can deliver a down-to-earth lifestyle that ranks among the most rewarding. Bold people who return to the land and leave the stress of busy cities behind often never look back. As professionals who grow sustainable plants, shrubs, moss, and trees, we hope this information proves useful to your ongoing success.