Imagine big beautiful trees without the wait....Plant  Fast Growing Trees
Isn't that the best kind to plant for your landscape enhancement?
When considering trees to add to your property or commercial establishment, few people want to wait for years and years to appreciate a fully mature tree. Many folks, however, are unaware that there is an abundance of rapid growers that can provide incredible shade, privacy, low maintenance, and stunning blooms in their landscape. Instead, most choose a little sapling that takes years of patience and attention to develop and nurture into maturity.
Let's be honest; trees contribute to the value of your home because they add instant curb appeal. Healthy trees absorb carbon dioxide, converting it to oxygen. Also, the Council of Tree and Landscape Appraisers says that a healthy, mature tree can boost the value of a home between $1,000 and $10,000.
Here are our favorite Fast Growing Trees:
American Red Maple. If you choose this beauty, you can bet on a growth spurt of three feet annually. You will be able to appreciate its brilliant red foliage and a thick canopy of shade in no time. The American Red maple does well in urban communities, even in air conditions with smog; The tree can also tough it out in various poor soil areas. Experts recommend this fast-growing, favorite shade tree in planting zones 4 through 9. This ornamental lovely prefers full sun.
Heritage River Birch. Many fresh bark textures and intricacy of multi branches with rich green canopies best describe this fantastic birch tree. This one can also see a healthy growth of up to three feet per year. The birch is one hardy member of the fast-growing trees club, resistant to diseases and pests, and with the ability to handle flooding, snow, ice, and anything else Mother Nature tosses, it's the way. It's recommended that the Heritage River birch is planted in zones 4 through 8. Full sun to partial shade allows this beauty to thrive.
Thuja Green Giant. Sometimes, privacy is critical for many property owners, and you want a line of trees that can efficiently provide that living wall. Choosing the Thuja Green Giant is a wise option because this evergreen grows before your very eyes, establishing a spurt of five feet per year. The pyramid-shaped tree full of dense, feathery foliage is attractive to look at without observing your neighbor's home or property. Zones 5 through 9 are ideal for this one.
Royal Empress Tree. If there were ever a tree that lives up to the name, it's this one. Regal and impressive, the Royal Empress is a champion of fast-growing trees at a rate of up to 6 feet annually. This beauty even delivers a gorgeous jasmine gardenia fragrance in spring. A burst of big purple blooms delights passersby, along with unique and vast, heart-shaped green leaves for incredible shade. This tree grows best in zones 7 through 9.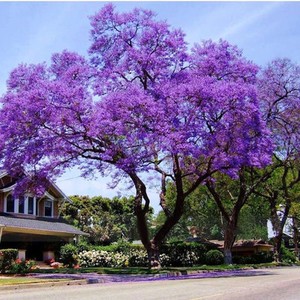 Buy Fast Growing Trees today at TN Nursery