How to Make a Pollinator Garden
Creating a pollinator garden is a beautiful way to support local ecosystems, promote biodiversity, and help sustain important pollinator species such as bees, butterflies, and hummingbirds. By providing a welcoming habitat for these creatures, you can contribute to preserving our natural environment. Here's a step-by-step guide on how to make a pollinator garden:
Research and Planning:
Start by researching the types of pollinators that are native to your region. Find out which plants and flowers attract them and provide food and shelter. Consider the local climate, soil conditions, and available space in your garden. This research will help you make informed choices during the planning phase.
Selecting Plants:
Choose various flowering plants that bloom at different times of the year. This ensures a continuous food source for pollinators throughout the seasons. Opt for native plants whenever possible, as they are better adapted to the local environment and are more likely to attract local pollinators. Select plants with diverse colors, shapes, and sizes to accommodate different pollinator species.
Garden Design: 
Plan the layout of your garden, considering factors such as sunlight exposure, water availability, and wind patterns. Group plants with similar watering need together. To provide a diverse habitat, incorporate a mix of shrubs, perennials, annuals, and grasses. Create clusters or "drifts" of the same plant species, making it easier for pollinators to locate them.
Soil Preparation: 
Prepare the ground by removing weeds or grass and improving its quality. Add organic matter, like compost, to enrich the soil and enhance its water-holding capacity. Ensure proper drainage by amending heavy clay soils with sand or peat moss. Conduct a soil test to determine if additional amendments, such as lime or sulfur, are necessary to adjust the pH levels.
Planting: 
Follow the planting instructions for each plant, considering the appropriate spacing and depth. Water the plants well after planting to promote healthy root establishment. Mulch the soil around the plants to conserve moisture, suppress weed growth, and provide insulation. Use mulch, such as wood chips or straw, to avoid introducing harmful chemicals into the ecosystem.
Watering and Maintenance:
Regularly water the garden to moisten the soil, especially during dry periods. However, be cautious not to overwater, as this can lead to root rot. Remove any weeds or invasive species that compete with pollinator-friendly plants. 
Provide nesting sites:
Consider including features that provide nesting sites for different pollinators. Install bee boxes or insect hotels to accommodate solitary bees. Leave patches of bare ground or create small mounds for ground-nesting bees. Provide suitable habitats for butterflies and moths by including host plants for their larvae, such as milkweed for monarch butterflies.
Avoid Pesticides:
Avoid using chemical pesticides in your pollinator garden, as they can harm pollinators and disrupt the natural ecosystem. Instead, adopt natural pest control methods, such as introducing beneficial insects or practicing companion planting, to deter pests.
Learn and observe: 
Take the time to observe and learn about the pollinators that visit your garden. Identify different species and document their behavior. This knowledge will deepen your appreciation for their vital role in the ecosystem and help you make informed decisions to enhance your garden further.
Best Plants To Start a Pollinator Garden With
Red Cardinal Flower
Lobelia cardinalis is indeed a great pollinator plant. It is known for its vibrant red flowers and is highly attractive to pollinators, including bees, butterflies, and hummingbirds.
The red cardinal flower's shape is particularly well-suited for attracting and accommodating pollinators. Its tubular-shaped blossoms have a long, slender structure, perfect for the long snouts of hummingbirds and butterflies. 
The bright red color of the flowers also acts as a visual signal, attracting pollinators from a distance.
Furthermore, the red cardinal flower produces nectar, a food source for many pollinators. Bees and butterflies, in particular, are drawn to the nectar-producing glands within the flowers.
By planting red cardinal flowers in your garden or natural area, you can create a welcoming habitat for pollinators and contribute to their conservation. 
Tall Annual Phlox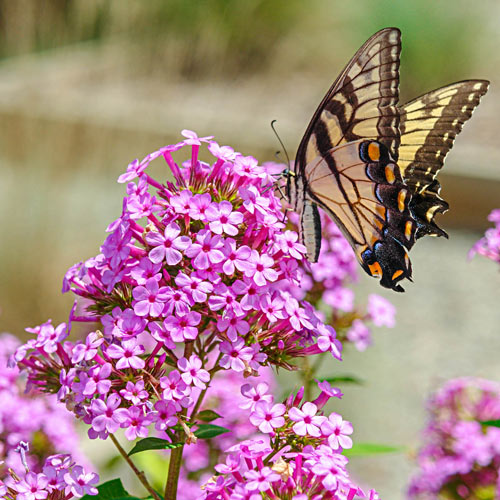 Phlox drummondii is an excellent plant for attracting and supporting pollinators. It belongs to the Polemoniaceae family and is native to North America. This plant features beautiful clusters of vibrant flowers in various shades of pink, purple, red, and white. Its tall, upright growth habit makes it a standout in the garden.
The tall annual phlox is beautiful to many pollinators, including bees, butterflies, and hummingbirds. The nectar-rich flowers are a valuable food source for these beneficial insects and birds. By planting tall annual phlox in your garden, you can create a pollinator-friendly environment and contribute to the health and well-being of these essential creatures.
Swamp Milkweed
Asclepias incarnata is a milkweed species that attracts monarch butterflies (Danaus plexippus).
Monarchs rely on milkweed plants as their primary source for feeding and a place to lay eggs.
Swamp milkweed is particularly beneficial because it provides both nectars for adult monarchs and leaves for the caterpillars to feed on. The adult butterflies are attracted to the sweet nectar produced by the plant's flowers, while the leaves are 100% food for the caterpillars.
By planting swamp milkweed in your garden or creating a monarch butterfly habitat, you can help support the monarch population. Providing milkweed plants is crucial because it keeps the entire life cycle of monarchs and aids in their conservation efforts.
Butterfly Weed
Butterfly weed (Asclepias tuberosa) is indeed a great pollinator plant. It is known for attracting pollinators, especially butterflies, hence its name. Here are a few reasons why butterfly weed is beneficial for pollinators:
Attracts butterflies:
Butterfly weed produces vibrant orange or yellow flowers that are particularly attractive to butterflies. The nectar-rich blooms serve as a valuable food source for adult butterflies.
Host plant for butterflies:
In addition to attracting butterflies, butterfly weed is a host plant for the monarch butterfly. Monarch caterpillars rely on milkweed plants like butterfly weed as their primary food source, making it an essential plant for their lifecycle.
Pollinator-friendly structure:
The flowers of butterfly weed have a unique structure that provides an ideal landing platform for butterflies. The shape and design of the flowers allow butterflies to easily access the nectar while inadvertently transferring pollen from flower to flower.
Drought-tolerant and low-maintenance:
Butterfly weed is a hardy perennial that thrives in various environments, including dry and sunny locations. It requires minimal maintenance once established, making it a convenient choice for many gardeners.