Winter gardening is not only possible but rewarding
It is a way to get your hands dirty and an excellent way to get some exercise in the off-season. It is all about planning. You need to know
your plants are valuable, you need to provide them with the best care possible.

Winter gardening is about protecting your plants from cold temperatures, although it is more
than that. You can help your plants survive by doing a few things during this time of year, but
there are also some things you should not do.

Thankfully, this article has outlined some tips for keeping your plants safe and healthy through
the winter. They include the following:

Build a Cold Frame
If you do not have one, build a cold frame. Cold frames are simple to make. They protect plants
from frost and extend the
growing
season by providing extra warmth at night and on cloudy
days. You can build your cold frame using wood and plastic sheeting or purchase one at a garden
center or hardware store.
Make Your Mulch

Mulch is an essential part of winter gardening because it helps retain moisture in the soil and
protects plants from freezing temperatures and wind damage. Mulch also suppresses weeds from
sprouting up in your garden beds during winter, so you will not have to pull them out when
spring rolls around.

You can make your mulch out of leaves, grass clippings, or hay bales, but composted manure
works best for retaining moisture in the soil over time because it contains partially decayed
organic matter releases water slowly into the soil as it decomposes further over time.
Bring Plants Inside on Cold Nights
The temperature will drop below freezing during those dark winter evenings, so bring plants
inside if they are too sensitive to the cold weather. If you have a greenhouse, place them there
until spring arrives again.

If not, bring them into your home and place them in a sunny window where they will be
protected from drafts from open doors or windows by placing something soft between them and
any drafty areas (like a newspaper).

Fertilize for a Healthy Lawn

Suppose you want a lush green lawn come springtime, then now is the time to fertilize your
grass. Wait until after the first frost before fertilizing for the nutrients to be absorbed into the soil
rather than being washed away by melted snow. Fertilization during this time will give your lawn
the nutrients needed to thrive next year when spring arrives again.

Use Raised Beds for Better Drainage

It is essential if you are growing tomatoes or peppers since they need good drainage
to keep them from rotting when wet soil causes fungal diseases like early blight or late blight.

Raised beds allow water to drain away quickly so it will not stay on top of the ground where
these diseases thrive. It would help if you also made sure there are no holes in the sides of your
bed where water can collect and stagnate before draining away into the soil below.

Water Plants Regularly, but Do not Overwater Them

Overwatering causes roots to rot and permanently harm your plant. Once the weather turns cold,
water less frequently but more deeply so that moisture reaches all parts of the root system.

To know if they need water, stick a finger in the soil about 1 inch deep. If damp at this depth,
you do not need to add more water yet (but check every day just in case); if it is dry at this level,
then water thoroughly (the best way is to up a sprinkler system).

Prune Grapevines and Fruit Trees

Even if you do not have your tractor, it is essential to prune grapevines and fruit trees in the
winter. The suitable time to prune is when the wood is dormant, which means it is cold and dry
(not wet). Winter pruning is necessary for many reasons:

 It keeps plants healthy and prevents disease or pest infestations.
 It increases photosynthesis.
 It helps plants prepare for spring growth.

Plant Trees and Shrubs

Plant trees and shrubs during this time because the ground is still relatively warm, so there is
plenty of moisture in the soil, which will help them establish root systems quicker than they
would if planted during other times.

Your local nursery can help you choose plants suited to your particular area based on climate
conditions. If you come from an area with plenty of winter snow, choose native plants or ones
tolerant of cold temperatures, such as evergreen shrubs like rhododendrons or conifers like
Douglas fir trees.

Inspect Your Trees and Bushes for Insect Pests

Inspect your trees and bushes for insect pests that overwinter in the bark or under leaves. Look
for scale insects or mites on bark; aphids, mites, and whiteflies on leaves; borers in woody stems;
caterpillars on fruit trees, and roses or other woody plants. If you find pest infestations, treat
them immediately before they get worse.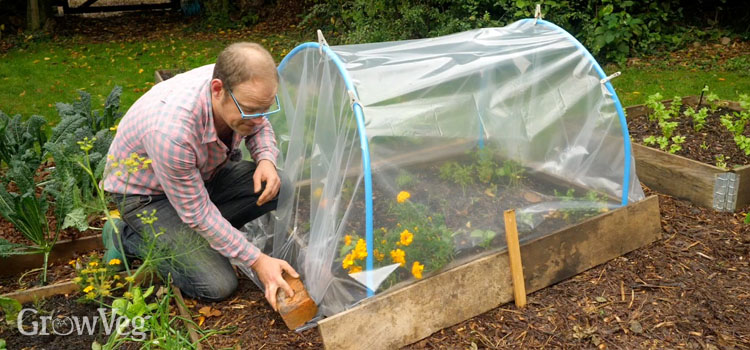 Bottom Line

Well, everyone complains about the winter months. However, if you are diligent about these nine
tips for winter gardening success, you will have much better garden results come March. In
addition to having a beautiful backyard, knowing that you did something positive in your
community is a wonderful feeling. So keep gardening through the winter months, and look
forward to having the best garden this spring.