Reviews (0)
Currently there are zero reviews for this product.
Helpful Gardening Tips
Goes Well With
Shipping
Shipping Information
We ship all plants usps priority mail. They arrive to most locations within 2-3 days. We package all plants to retain moisture to up to 10 days in transit. All plants ships from our warehouses in Tennessee. All plants are grown and shipped from out Altamont (zip) 37301 location. We do drop ship for re-sellers also for those wanting to resell our plants.
How We Protect Your Plants For Transit
All plants are dug and immediately taken to our warehouse and tera-sorb moisture retention gel is applied to the roots and then wrapped in plastic to retain superior moisture for transit. They are placed in corogated cardboard shipping boxes for protection when shipped
Upon Receipt Of Your Plants
Upon receipt of your plants, unpack and unwrap the roots and mist with water. Plant within 24-48 hours. If you can not plant within this time frame, put your plants in a cool location (ex- basement, garage or cellar) and water the roots daily. Cover them back up with the plastic so they will not dry out until you can plant them. After planted, water every evening after the sun goes down for 5 days.
Shipping Dates
Ships Year Round
Description
Toadshade Trillium
Trillium Sessile. Toadshade Trillium is a spring wildflower native to the central United States and the Ozarks. The name Sessile is derived from the Latin word sessile which means "low-sitting" and refers to the plant's stalkless flower. It is a tri-flowered plant which rarely grows above 9 centimeters tall. Toadshade is distinguished from other wild trilliums by the foul-smelling flower nestled in the center of its three pedals, which are maroon in color although may occasionally grow into a pale green. Its leaves are sometimes spotted with shades of light and dark green. On the northern edge of its growing range, Toadshade is considered a threatened species in the state of Michigan and endangered in New York.

Toadshade is most frequently seen in moist woods but is also commonly found in limestone woods, forests, floodplains and along fence rows
Flies and beetles, the toadshade's primary pollinators, are attracted by the plant's foul-smelling flowers, which remain present from April to June. Parts of the plant that is above ground usually die by mid-summer. However, Toadshade is known to persist much longer in areas that never completely dry out. Some botanical sources cite the Toadshade greens, when cooked, as edible emergency food. The whole plant and especially its root, however, is renowned for inducing vomiting. The Toadshade Trillium would be an excellent addition to any landscape. Trillium sessile has been medicinally used to treat various tumors and as a poultice for boils and a panacea-like decoction. Nonetheless, most of the medical benefits associated with Toadshade discarded due to being attributed to the Yuki and Wailaki tribes of Native Americans in California, where the plant does not grow in nature.
Toadshade Trillium
Toadshade Trillium
Long-lived and sporting attractively mottled foliage, the Toadshade Trillium plant thrives across much of the Southern and Midwestern United States. Also known as the toad trillium, sessile trillium, or sessile-flowered wake-robin, this perennial plant's name derived from its low-profile and stalkless flowers. Occurring in a wide range of habitats, Toadshade Trillium most often found in soils rich in calcium carbonate, including woodlands, riverbanks, floodplains, and, on rare occasions, in dry, high-elevation forests. An herbaceous woodland wildflower, the Toadshade Trillium features leaves that emerge in groupings of three from an enclosed sheath, or cataphyll, that grows from 10 to 30 centimeters tall and which topped with a single flower. The sepals of the Toadshade may also vary widely, as they may be green, streaked with maroon. Even a blended dark green-maroon in color, and are also observed in groupings of three.
Flowering in early to late spring, the exact time of flowering will depend on the latitude in which the plant found. The flower of the Toadshade Trillium is generally erect, oblanceolate to oblong in shape, and may vary in color from dark maroon, maroon-brown, bronze, yellow, or green. Once fertilized and mature, this flower will yield a single fruit in the form of a six-sided berry that is a dark greenish-purple in color. Toadshade Trillium is often distinguished from other forms of trillium by this flower, which has been noted to be rather a foul-smelling, but beautiful.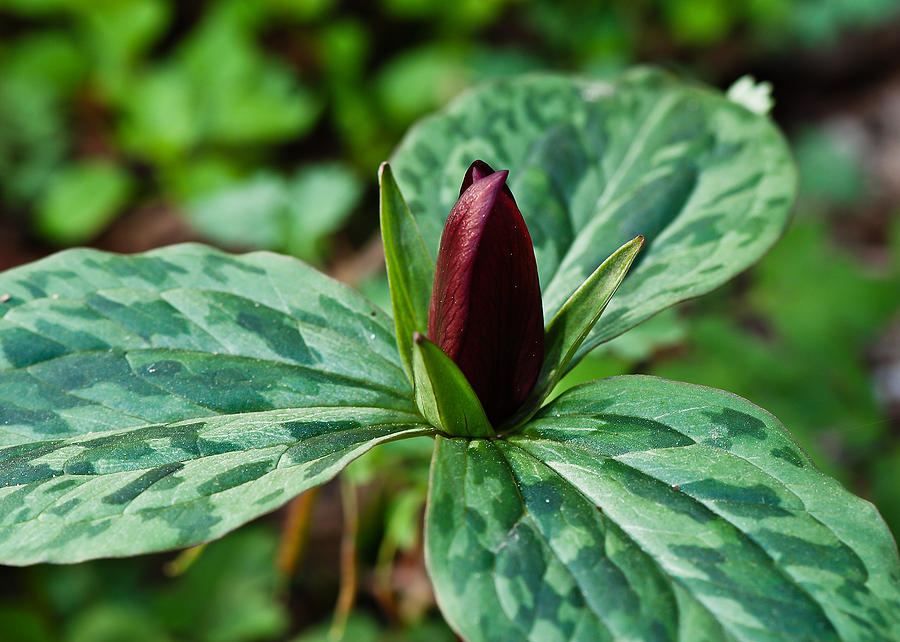 Toadshade Trillium