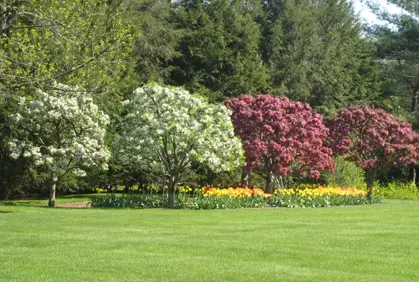 How Trees Enhance Landscaping
Trees are large, majestic, and make a grand statement in almost any type of landscape. Because of their size and the fact that they usually last for generations, you can't underestimate their importance. The following describes the different kinds of trees used in landscaping and where to plant them to create the most fascinating landscape possible.
Shade Trees
Many experts will tell you that a fast-growing tree may be susceptible to bugs and disease and that a robust and sturdy tree is usually slow-growing. However, choosing the right tree and nurturing it will provide maximum results. Maples are an excellent choice for shade. They often grow up to 80 feet tall and may spread over 50 feet in width to provide excellent sources of darkness. Maples grow best in the full sun surrounded by moist soil. The Tulip tree also multiplies and can give a fair amount of shade. A shade tree should be planted approximately 15 to 20 feet from the house to provide maximum shade and cooling. Perennials also work well in beds beside trees.
Flowering Trees
A Redbud tree produces vibrant magenta flowers that last about three weeks before the leaves appear. Redbuds are relatively easy to care for and grow to an average of about 25 feet tall. In the fall, the leaves turn yellow. This type of tree attracts many birds and would be perfect next to a porch or patio. With their pretty white petals, Dogwoods look beautiful in almost any landscape. They only grow between 10 and 20 feet tall. The Sweetbay Magnolia tree grows approximately 20 feet tall and produces creamy white petals; The Sweetbay Magnolia isn't just for southern states. Even as far north as Chicago, You can enjoy the sweet aroma of the flowers.
Evergreens have a unique look that can dramatically change the look of any landscape. You can plant smaller hedges around a house to hide the cement foundation. Lines of evergreens can be planted as a barrier in front of utility lines or a busy road. Rows of evergreens make the perfect backdrop for various plants and flowers. Hostas often grow well near evergreens. Evergreens should be planted on the north side of the house if possible. That will help break winter winds and conserve energy in the home.
Buy landscaping trees at TN Nursery