After a cold and dreary winter and spring just around the corner, most homeowners want to see early spring blooming flowers in their gardens and flowerbeds.
Below are some of spring's first blooming perennials with flowers that will add color to those favorite window boxes, raised beds, flower gardens, or as border plants. These adorn gardens by adding color in the early spring season.
Virginia Bluebell Plant - Mertensia Virginiana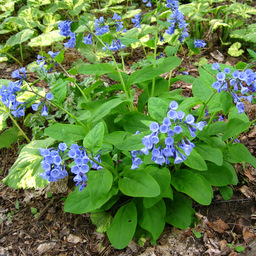 The Virginia bluebell plant Mertensia virginica is a spring-blooming perennial plant that thrives in the deep woods near rich soil and moisture. Other names for this are cowslip and bellflower. This beautiful perennial blooms lavender pink depending on soil PH levels.
The Virginia bluebell plant Mertensia virginica is one of spring's first bloomers, and its vibrant green leaves adorn the plant perfectly in shade settings. This perennial thrives in the deep woods near rich soil and moisture. Other names for this are cowslip and bellflower. The Virginia Bluebell perennial plant is perfect for your ornamental garden because it thrives near rich soil and grows well in cool climates. Plant one today and bring a pop of color to your garden!
Bloodroot Plant - Sanguinaria Canadensis
The delicate white blossoms on the herbaceous bloodroot perennial plants are welcome in spring gardens. Petals are white and stand up straight in the air with a small green oval bulb at the base of each petal. The Bloodroots will bloom early in the spring and continue until late summer. The Bloodroots grow out of just one stem with leaves that measure 5 to 10 inches long by 3 inches wide; they are linear-elliptic in shape with a pointy tip. This plant is also a herb used by native American Indians for war paint. Inside the root of this plant is blood red fluid, where the plant got its name, "blood-root."
If you love springtime and can't wait to see the vibrant hues of yellow and gold blooming, then this is the perfect perennial plant for you. Daffodil plants are resilient bulbs that are easy to grow, can survive in cold and dry climates, and are loved by many. Daffodil plants are often called the jonquil, though they are not related to the jonquil, which belongs to the amaryllis family. The daffodils grow into clumps that branch out, forming a large colony over time. A hardy perennial that is very drought tolerant, narcissus plants are also deficient in maintenance, making them a favorite in gardens worldwide.
The Larkspur plant is a classic cottage garden perennial staple that produces great-cut flowers. With airy stalks of blue blossoms. The larkspur plant is very popular for its pretty flowers. Each floret on the flower stalk has five petals, and one of them is elongated. They are popular among gardeners since larkspur is easy to grow. They're also very resilient, so even if they're not given enough water or sunlight, they can still produce some flowers.Larkspurs are great for homeowners looking for an attractive flower that doesn't require much maintenance.
The carpet-like creeping phlox perennial is perfect for borders and the quintessential cottage garden and is an excellent plant for shade or sun areas. Other plants that phlox looks great to partner with other plants are hosta, achillea, mountain bluet, and bleeding heart. Creeping phlox is available in many colors and hybrids, including old-fashioned moss red, elegant blue and creamy white, and the ever-so-popular rainbow colors. Creeping phlox has two bloom seasons. One is in early spring, and the other is in late summer, near August. It attracts more significant amounts of butterflies and monarchs. It stays bloomed for up to eight weeks, making it the "Bell of the Ball" to most homeowners and gardeners due to its long bloom cycle and being drought tolerant and low maintenance.
Solomon's Seal - Polygonatum spp.
Planting early spring perennials can be done throughout the year as long as the soil is not frozen to prohibit digging, states Dennis Sons of TN Nursery.