Posted by Tammy Sons on Jun 24 , 2018
Exotic Native Perennial Plants
Plants can help your yard and home have an attractive appearance. Well manicured shrubbery and a maintained lawn can add to that effect. To truly stand out, a home needs flower beds to spread a little color in what would otherwise be a sea of green. Choosing to use perennial plants for your decorative needs means that you will only have to plant them once and they will return year after year. This will leave you with only maintenance tasks when it comes to your flower beds. And there are many different perennials that are native to the country, yet still exotic when it comes to decorating your yard. Let's take a look at a few that are especially well suited to bring beauty into your life. Beautiful Native Plants compliment any garden.
For a low level splash of color the birds foot violet is the perfect choice. This hardy little plant only grows to a height of three inches and is topped by a lovely violet flower with an orange center. The distinctive shape of its leaves gives it its name. The flower prefers a dryer soil and grows best in direct sunlight. It seeds itself readily, helping to spread its beauty of an ever widening area.
The sight of the white flowers of the blood root is usually one of the surest signs of spring. Blooming from March to May every year, the easy to care for plant will be a welcome addition to your garden. The plant grows from a shallow root rhizome that will branch and spread this lovely harbinger of warmer days.
If you enjoy watching hummingbirds in your yard, then this could be the plant that you have been searching for. Its bright red flowers grow along a two to three inch spike at the tops of the three and four foot tall dark green plant. It is the perfect plant for along your fence line. It enjoys moist soil and full to partial sunlight. You will love the spectacle during the heat of a summer day.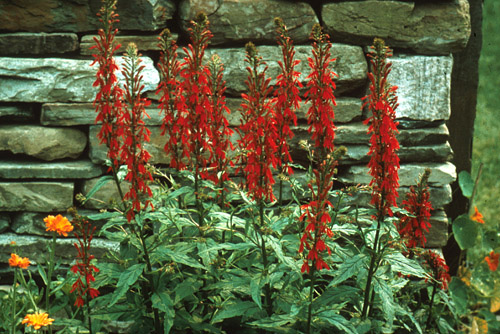 This plant is similar in appearance to the cardinal flower, being only a little shorter and bearing brilliant blue flowers in the late summer. It is more suited to a moist or damp environment making it perfect for stream banks and the edges of wetlands. The plant grows well in all types of light including the full shade of wooded yards.
Buy all these wonderful native perennials online at Tn Nursery