Does your backyard in early spring look like it's holding its breath? Many novice gardeners mistakenly assume those early months must be bleak and barren yearly. But this isn't true.
When you invest in spring bulbs such as daffodils, Virginia bluebells, or Dutchman's breeches and plant them in the fall after temperatures have dropped into the 60s, your backyard can burst into bloom as early as March.
These hardy perennials, and other native varieties like them, are tough enough to pop up even through patchy snow. And when they explode into spectacular color while everything around them is still dormant and depressing, they're sure to become fast favorites.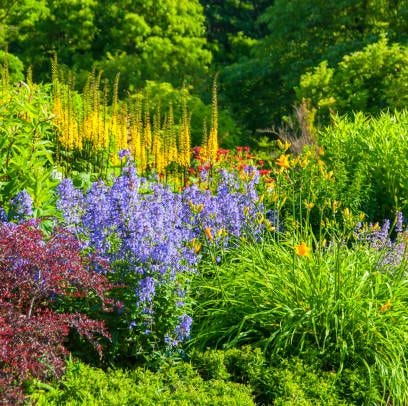 Many Perennials Are Native to Your Growing Zone
If a plant is classified as a native species, it grows wild in some areas of the country. Wildflowers are notorious for their stubbornness and desire to live, and some will grow in the most disheartening conditions, including drought, rocky soil, and heavy shade.
That's why native perennials should be first on your to-do list if you want to liven up your landscape for spring. Talk with a local nursery or greenhouse specialist to find out which plant hardiness growing zone you're in, and start from there. Or, visit the website of the United States Department of Agriculture (USDA), and match your location to the map. Popular perennials native to areas of the United States include:
Wild Columbine
Bleeding Heart
Spiderwort
These plants provide lasting benefits to your backyard in the spring. They're spectacularly colorful, easy to grow and maintain, and most aren't too picky about where they'll thrive. Some, such as the Virginia bluebell, attract pollinators like long-tongued bees and hummingbird moths. Best of all, they're perennials, which means they'll grow and multiply every year without reseeding.
Some Perennials Bloom Profusely All Season Long
If it's the color you crave, few perennials out-perform daylilies. Some varieties of perennial daylily can provide up to 400 blooms in a season. Each bloom lasts a single day or night, and another replaces it once it fades. This means a single plant can provide color and late-evening fragrance for up to 40 days. All with minimal care and upkeep.
Other perennials, such as Dutchman's breeches and daffodils can bloom from March through May, depending upon the growing zone. These delicate woodland flowers produce no fragrance but add interest and beauty to your spring landscape.
Dutchman's breeches are also attractive to ants, which are good pollinators in your garden. Ants are good at aerating the soil, too. And some eat the insects that would otherwise feast on your plants.
Other Perennials Bring Early Satisfaction to Bleak Landscapes
Gardeners hoping for early blooms should consider planting perennials such as daffodils, crocus, hyacinths, and tulips. As bulbs, all need to be planted in the fall or cool temperatures around 60 degrees. And all bring gorgeous color to barren spring landscapes. Crocus is often the first blooms to appear after a cold, hard winter, bringing delicate color that's low to the ground and prolific.
Daffodils are quick to follow, with heavy heads nodding on dainty stems. Hyacinth and tulip are popular, highly scented perennials usually found for sale in decorative pots around Mother's Day and Easter. Still, you can plant them as bulbs in the fall, too. If conditions are right, they'll erupt in the spring, painting your backyard landscape in vivid shades of pink, purple, white, and blue.
Plant some perennials if you're tired of staring out over a brown and distressed backyard every spring. You can find them as bulbs in the fall or as potted or bare-root plants in spring and summer.