Plants By Type
Categories
Product Description
Huckleberry - Vaccinium Caespitosum
Zone: 2-7
Mature Height: 2-9 ft.
Mature Width: 8-10 ft.
Growth/Year: Less than 1 ft.
Sunlight: Partial to Full Shade
Soil Conditions: Adaptable to various Soils
Ships As - Bareroot Plant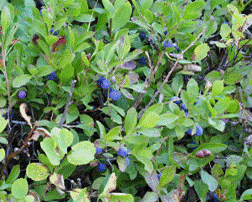 The Vaccinium Caespitosum is commonly known as this fruit plant. This name is used for many different plants throughout North America. The flowers and fruit of this plant resembles those of the high bush or low bush blueberries which is similar to this species. This fruit bush produces small blue berries or clusters that can be eaten, canned or jammed.
Product Reviews
Find Similar Products by Category
Customers also viewed